Skip to main content
Wish Upon A Star
Santa Invites You To Wish Upon a Star at Meadowhall.
Santa returns and we're delighted to invite you to join him for a one of a kind magical experience! Let his Wish Gathering Elves transport you and your children to a snowy Wishmas Wonderland where you'll enjoy an immersive theatrical experience filled with storytelling, stargazing and enchanted encounters, a Santa's Grotto like no other.
Christmas wishes will come to life as Wish Gatherers lead children through an interactive world of wonder, help them craft their very own Wishmas Stars, and bring them to meet Santa himself in his Grotto. Here, they'll receive a little Wishmas Magic and pose for an unforgettable photo to mark the special moment.
So, if you'd like to see your child become the star of the show this Christmas at our never been seen before Christmas Grotto Experience, come and wish upon a star with us from Wednesday 21st November 2018. Book your place today through our Eventbrite page, and start the festive season with a truly unique adventure for all the family.
Meadowhall's Wish Upon a Star with Santa experience will be open from Wednesday 21 November until Monday 24 December 2018. Sessions will run daily from 10am-5pm on week days and 9am - 5pm on weekends and Friday 21st and Monday 24th December. Accessible, quiet sessions are also scheduled on Tuesdays from 10-11am, allowing smaller groups of children to enjoy a little extra time in a calmer environment. Spaces are limited so early booking is recommended to avoid disappointment. Tickets are priced at £3.00* for adults and £6.00* for children (*plus booking fee) and can only be purchased online in advance. Visit for more information: https://www.meadowhall.co.uk/grottonews
Address
Meadowhall Centre
Sheffield
South Yorkshire
S9 1EP
Opening Times
From: 21/11/2018 To: 24/12/2018
10am - 5pm
Photos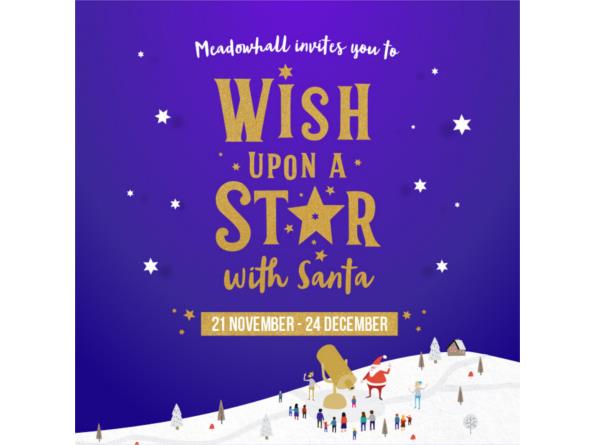 Related
Pricing
Tickets are priced at £3.00* for adults and £6.00* for children (*plus booking fee