Skip to main content
Helen McCookerybook at the Lantern Theatre
Delighted to be returning to the Lantern Theatre, Sheffield is pioneering She Punk and John Peel favourite Helen McCookerybook. Original bass player and lead singer with 70's/80's Brighton-based punk rock band The Chefs and later Helen & the Horns, after a memorable sell out gig with Martin Stephenson and The Daintees a couple of years ago, this is McCookerybook's solo debut at The Lantern.

Supporting Helen is Sheffield based singer songwriter Duncan Parsons, whose history is littered with the unusual, from tutelage from drumming legend Bill Bruford, through Christian satirical music and brushed snare on ambient odysseys. Since 2012 he's released solo albums which take in a wide variety of styles and moods. His current repertoire includes songs about the history of Ladybird books (between 1948 - 1971), the golden age of Childrens' TV, science fiction, and The Green Cross Code Man.

'Parsons writes catchy ditties and clever lyrics, he also possesses the ability to make restrained ideas have more impact than first impressions would have you believe.' (Sea of Tranquillity)
'..mixes a dry wit with a wonderfully observant line in lyrics, this is an album that will both delight and provoke thought in equal measures.' (The Waiting Room)

McCookerybook's appearance marks the 40th anniversary of her explosive 1979 recording debut with punk rockers The Chefs. At the Lantern Theatre Helen McCookerybook will be performing solo on guitar, featuring fan favourites such as 'The Sea' and 'A Good Life With A Bad Apple' and recorded in NY, her limited edition single 'Saturday Night with the London Set'. McCookerybook's Lantern Theatre gig is part of a 15 gig-plus UK DIY tour, running from March to December 2019 (www.mccookerybook.com).

McCookerybook's music is admired by fans and the music industry alike, "McCookerybook purveys a gentle, jazz-folk melodicism, with a dark underside." (Time Out), "acoustically led, her songs are of love, politics and quite possibly, the kitchen sink, and her voice is pure as crystal." (HIAPOP) and "McCookerybook's lyrics, frank and idiosyncratic, find poetry in the everyday – shards of broken glass in the ice-cream." (Art & Music: The Saatchi Magazine). No stranger to controversy, McCookerybook's Chef track 'Thrush' was considered too outrageous to be played by the BBC, but notably, BBC Radio Birmingham played it anyway, on the basis that management wouldn't notice!

A multi-faceted talent: singer/songwriter, artist, author, academic, McCookerybook returned to the stage ten years ago, releasing four albums the latest being her finest album 'The Sea', an exquisite collection featuring the divine 'Summer Days' a favourite of Gideon Coe on 6Music. McCookerybook's bossa-inspired jazz lilt vocals, her glorious melodies in simple sparse arrangements are juxtaposed with subtly dissident, occasionally dark lyrics, a critically praised feature of her music. McCookerybook currently gigs with the likes of The Nightingales, the Monochrome Set and The Wedding Present and is admired by contemporary artists such Amelia Fletcher of Tallulah Gosh and Kenji from German band Friedrich Sunlight.

In 2007 McCookerybook, (AKA Dr. Helen Reddington), published 'The Lost Women of Rock', a ground-breaking book described as "gritty and compelling" for its frank and critical analysis of women breaking into a male domain. The book was turned into a powerful documentary 'Stories from the She Punks: music with a different agenda' (2018, UK, 45 mins), directed by McCookerybook and Gina Birch of the Raincoats and had its successful world premiere at London's 2018 Doc'n Roll Festival. The wide appeal of McCookerybook distinct song writing and vocals, her evident wit and intelligence, prompts airplay on an eclectic mix of radio stations from 6Music, Juice FM's 'Midnight Campfire' and interestingly BBC Radio Scotland's nan Gaidheal, a Scottish Gaelic station that embraces her music.

McCookerybook's talent as a luminous chronicler of the heart will simply light up The Lantern Theatre on the 25th of July , so don't miss it.
Address
The Lantern Theatre
18 Kenwood Park Road
Sheffield
South Yorkshire
S7 1NF
Opening Times
On: 25/07/2019
8pm
Photos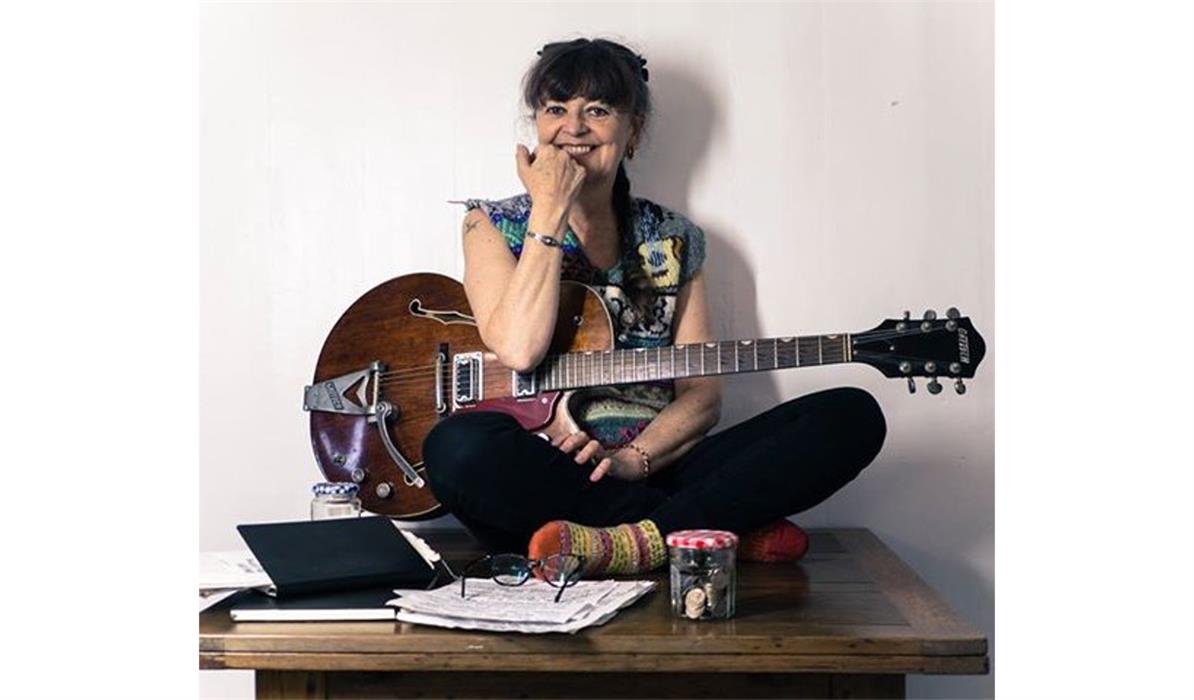 Related
Pricing
£10.00