Skip to main content
The Leisure Society
A folk-inflected chamber pop project led by London-based singer/songwriter Nick Hemming, the Leisure Society generated significant buzz in the U.K. following the 2009 release of their debut album, The Sleeper. Their sense of wistful grandeur and lushly arranged pop songcraft drew acclaim throughout the British press, which they soon parlayed into chart success on further releases like 2011's Into the Murky Water and 2013's Alone Aboard the Ark. Along the way, they earned a pair of Ivor Novello Award nominations, helped score an independent film, backed up Laura Marling on tour, played Glastonbury, and even recorded with Ray Davies. A decade into their career, the band issued their first double album in 2019's Arrivals & Departures.
The Leisure Society kicked into life in 2005 after Hemming moved into the same South London apartment as fellow Burton upon Trent-born musician Christian Hardy. A guitarist since the age of 17, Hemming had already created scores for his friend Shane Meadows' acclaimed 1999 film A Room for Romeo Brass, as well as 2002's gripping and violent Dead Man's Shoes. On the soundtrack to the latter film — under the Leisure Society moniker — Hemming's music sat alongside that of a veritable roll call of achingly cool alt-folk acts such as Smog, Adem, Will Oldham, the Earlies, and M. Ward. Prior to their successful film careers, both Meadows and Paddy Considine had performed with him in the Staffordshire-based early-'90s indie outfit She Talks to Angels. Hemming also garnered additional musical experience with his involvement in the Stephen Lawrie-fronted acts the Telescopes and Unisex.
Although Hemming and Hardy's first London performances as a duo were stripped-down acoustic affairs, their association with acts from Tom Cowan and Will Calderbank's Brighton-based Willkommen Collective resulted in an expansion of the Leisure Society's lineup. Swelling to a septet in 2008, Hardy's keyboard flourishes were augmented by Calderbank on cello, Mike Siddell on violin, Helen Whitaker on flute, Darren Bonehill on bass, and Sebastian Hankins on drums. While Hankins had most recently performed avant-garde jazz in the Yorkshire-based Inertia Trio, from 2001 he had learned his trade in a modern incarnation of '70s chart act the New Seekers.
Completed in late 2008 in an old converted chicken shed owned by Calderbank's parents, the Leisure Society's debut album, The Sleeper, was eventually released on Willkommen Records the following March. "The Last of the Melting Snow" — the delicate album opener and lushly orchestrated first single from the record — was nominated for an Ivor Novello Award a month later, while the chiming, percussive instrumentation on "The Darkest Place I Know" nodded to the Boy Least Likely To. Here, Hemming delivered his brooding self-analysis in a similarly twee and whimsical fashion to the Buckinghamshire act. Classic influences were also apparent throughout, with "We Were Wasted" leaning heavily on Nick Drake's "River Man," right down to the Robert Kirby-inspired string arrangement.
The album benefited from wider distribution that summer when it was picked up by Full Time Hobby, and this coincided with prestigious appearances at 2009's Big Chill and Green Man festivals. A further reissue appeared in the autumn coupled with the eight-track EP A Product of the Ego Drain, helping to maintain the group's public presence while the bandmembers worked on a second long-player. That work, Into the Murky Water, was released on Full Time Hobby in 2011 and peaked at number 75 in the U.K., giving the band their first chart position. That same year, they were approached by Ray Davies, a longtime hero of Hemming's, to collaborate on some songs, which resulted in a performance together at Davies' Meltdown Festival. Also in 2011, the band contributed material to the score for in the British independent drama Tyrannosaur.
The Leisure Society's third LP, 2013's Alone Aboard the Ark, was recorded at Davies' Konk Studios and again charted in the U.K., this time reaching number 71. They returned in early 2015 with their loosely conceptual fourth album, The Fine Art of Hanging On, which was again recorded at Konk Studios. Not long after the album's release, Hemming and flautist Helen Whitaker endured a lengthy separation that ultimately resulted in her departure from the band. Their breakup proved to be a major theme on the Leisure Society's next release, the ambitious double album Arrivals & Departures. Preceded by the 2018 single "God Has Taken a Vacation," which they released exactly ten years after their 2008 debut single, Arrivals & Departures appeared in April 2019 via the band's own Ego Drain imprint. ~ James Wilkinson, Rovi
Address
The Leadmill
6 Leadmill Road
Sheffield
South Yorkshire
S1 4SE
Opening Times
On: 27/09/2019
19:30
Photos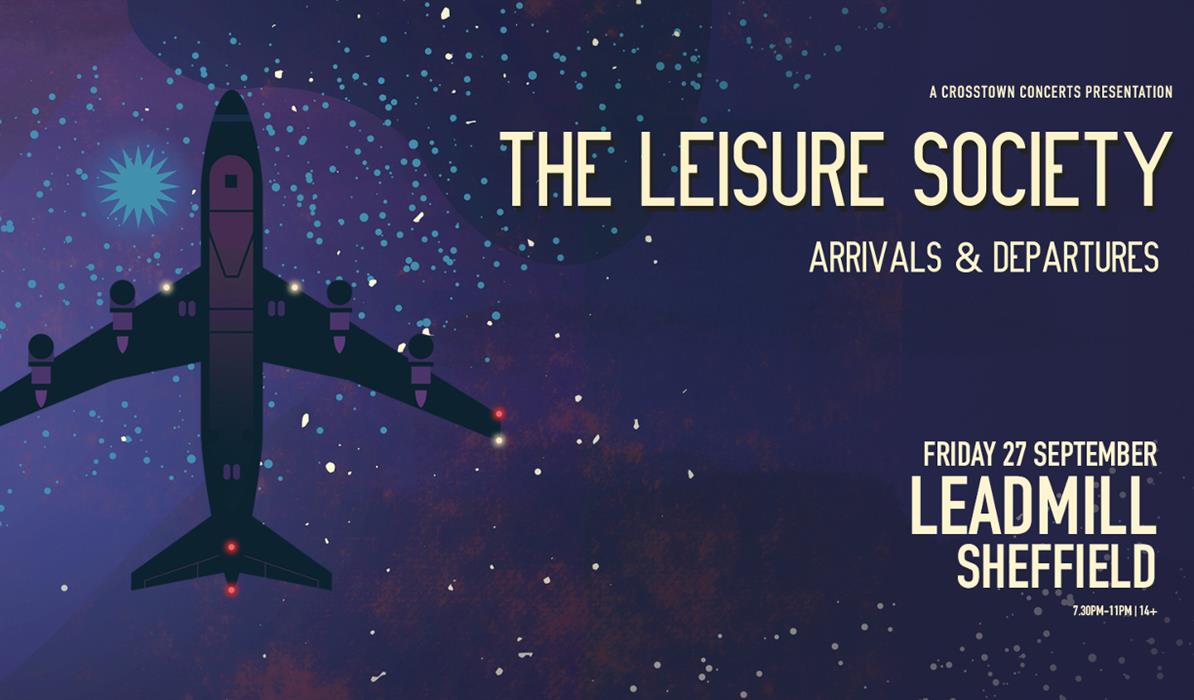 Related
Pricing
£13.50