Skip to main content
Sheffield Town Hall
Sheffield's Town Hall was built considerably later than those of the same period in other industrial centres of Northern England. This seems to have been because of more urgent priorities in the minds of the Sheffield Council at the time. The Council appeared to be more concerned with tackling the many social problems caused by the trebling of Sheffield's population between 1843 and 1893, before erecting a prestige monument to the municipality.

It was not until 1886 that the Council obtained the land on which the Town Hall now stands, and the Council launched a competition for architects to design a Town Hall for Sheffield.

Of the 178 designs submitted, that of a Mr. E. W. Mountford was judged to be the best. Mr. F. W. Pomeroy was chosen to carry out and supervise the carving.

The building was officially opened on 21st May, 1897 by Queen Victoria. Only four years later, the need for an extension was discussed and Mr. Mountford was instructed to prepare plans for it. Because of lack of sufficient finance and the outbreak of the Great War, it was not until 1923 that an extension materialised. This was to Mr. F. E. P. Edward's plan (the then City Architect). The cost was £115,600, and the extension was opened by The Prince of Wales on 29th May, 1923, twenty-six years after Queen Victoria had performed the original opening ceremony.
Address
Sheffield Town Hall
Pinstone Street
Sheffield
South Yorkshire
S1 2HH
Photos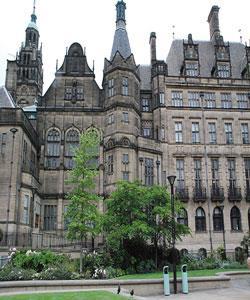 Related
Pricing
Free entry
Useful Information:
Accepts groups
Facilities for corporate hospitality
Disabled access
Disabled toilets