Skip to main content
Cliffhanger
Cliffhanger – Sheffield's inner-city festival dedicated to celebrating the outdoors returns for Summer 2018, with another jam-packed weekend of adventure, taking place Friday 6 - Sunday 8 July.
Once again the event will be taking place in association with Sheffield BID and will see a host of FREE events and activities spread across various city centre locations such as the Peace Gardens, Barkers Pool, Millennium Square, Devonshire Green and the Winter Garden.
The festival will kick off on Friday evening in Devonshire Green with an evening of live music, activities, demonstrations and refreshments from a range of food and drink outlets.
Then on Saturday and Sunday, Sheffield will be transformed into a giant outdoor playground, with professional demonstrations and activities in sports including climbing, mountain biking, running, skateboarding, orienteering and much more.
The BMC British Bouldering Championships will also be returning to provide the star attraction of the weekend, where the nation's strongest male and female climbers will battle it out on a purpose-built bouldering wall on Devonshire Green.
Admission to Cliffhanger will once again be completely FREE, though there may be a small charge for some of the activities. Scroll down the page for more detailed info on what's happening and where in the different areas of the city centre.
Contact Information
Address
Sheffield City Centre
Sheffield
South Yorkshire
Opening Times
From: 06/07/2018 To: 08/07/2018
Photos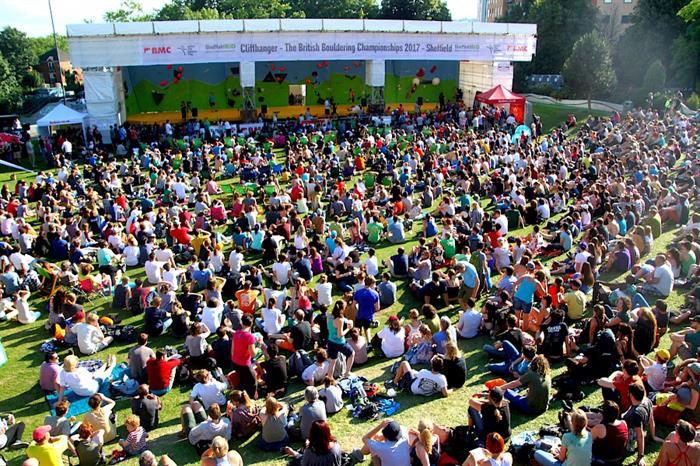 Pricing
Free entry