Skip to main content
Get Together
Taking place at Sheffield University Students' Union, GET TOGETHER will now take place on 7th and 8th August 2021.
The festival will be one of the first opportunities for people to share in the joy of live music in Sheffield this summer.
GET TOGETHER is proud to reveal the new line-up for 2021, including BLACK HONEY, SELF ESTEEM, DREAM WIFE, THE ORIELLES, TIM BURGESS, IBIBIO SOUND MACHINE and many more.
BLACK HONEY will headline the Saturday of Get Together, having just reached no. 7 in the album charts with their latest release 'Written and Directed'. This follows their outstanding self-titled debut released back in 2018 when the world that surrounded the Brighton four piece looked and felt like a very different place.
Black Honey however are still the bad-ass, truly original band they have always been, and they've just graduated from the intriguingly anomalous newcomers to becoming one of UK indie's most singular outfits. They've travelled the world, smashed Glastonbury, supported Queens of the Stone Age, graced the cover of the NME and become the faces and soundtrack of Roberto Cavalli's Milan Fashion Weekshow. And all without compromising a shred of the wild, wicked vision they first set out with; we can't wait to welcome them to Sheffield.
Closing GET TOGETHER on Sunday 2nd May is one of Sheffield's most outstanding artists. Having played in every venue across the city and toured the world with Slow Club, SELF ESTEEM (aka Rebecca Taylor) unveiled her debut album 'Compliments Please' in 2019 and unleashed huge pop tracks that any self-respecting star would kill to claim as their own. She joins us with the promise of new music, dancing and anthemic tunes to see the festival out.
Joining the Saturday line-up are the fierce London trio, DREAM WIFE. Their rise has been swift and steep since their debut record in 2018. The band – Rakel, Alice and Bella returned with the album 'So When You Gonna…', reaching 18 in the UK official album charts. Their album was produced by an all-female recording team, and their electrifying live show which promotes safe spaces and equality is not to be missed!
Charlatan's front man, record shop expert and hero of Twitter during lockdown TIM BURGESS also joins the line-up. Tim's latest solo record 'I Love The New Sky' came out on Bella Union in 2020, and alongside his Twitter Listening Parties, Tim's constant positive vibes were a shining beacon of optimism during a difficult year. Having not being able to play live yet, this will be one of the first opportunities to hear the record in the flesh.
THE ORIELLES released their second album 'Disco Volador' into the stratosphere in February. Cosmic, warped disco singles like 'Bobbi's Second World' which channels Talking Heads at their funkiest, as well as the disco bopping 'Space Samba (Disco Volador Theme)' have positioned the band as one of the most danceable acts to emerge in recent years.
And no band knows more about dancing than IBIBIO SOUND MACHINE. With their jubilant mix of disco and '80s electro, as well as mixing Ibibio (the Nigerian language where they take part of their name) and English lyrics, IBIBIO SOUND MACHINE are driven by hypnotic percussion, groove and a whole lot of fun. They prove music is a universal language and can bring people together, which is exactly what GET TOGETHER is all about.
Hailing from Carterton in Oxfordshire, WILLIE J HEALEY operates within his own lane. This is a musician who can write about any topic that grabs his attention: from acute observationals and the innocence of young love, through to gothic visitations from the devil and alien abductions.
He's unconstrained by genre, moving at will between raw garage-rock, evocative Americana and sweet psychedelia. He released his debut album 'People and their Dogs' in 2017 before teaming up with new music champions YALA! to release the '666 Kill' EP. His second album 'Twin Heavy' was released in July 2020 and declared "indie pop gold' by Q magazine.
The buzz surrounding BILLY NOMATES has only grown over the past year. From tiny in-stores to selling out venues across the country, the anticipation surrounding her forthcoming live shows continues to grow. With support from 6 Music and beyond, it seems like the majority of people who come across Billy are very much onboard.
Each day, these ground-breaking artists will be joined by a whole host of outstanding new artists, including THE MYSTERINES, WH LUNG, THE NINTH WAVE, ROSE GRAY, MARTHA HILL, BABA ALI, BLANKETMAN plus many, many more!
Address
University of Sheffield Students' Union
Western Bank
Sheffield
South Yorkshire
S10 2TG
Opening Times
From: 07/08/2021 To: 08/08/2021
Photos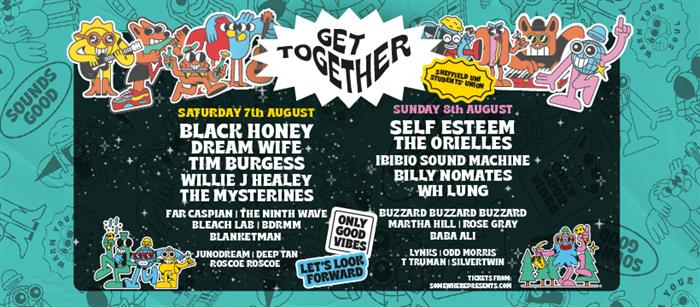 Related
University of Sheffield Students' Union
Pricing
From £27.50