Skip to main content
Canal-Lines - The Fringe at Tramlines 2021
A free, family friendly, outdoor live music event with outside bars and food vendors.
Friday 23 July Lineup
17:00 – Minds Idle
Psychedelic retro pop project.
18:30 – Banjo Jen
"All-singin', all-dancin', badass banjo-pickin' girl".
20:00 – The Fargo Railroad Co
Southern Rock forged and sharpened in Sheffield.

Saturday 24 July Lineup
14:00 – Chorlton Country Club
What started as Country jam night in Chorlton has blossomed into a side project band.
15:30 – The Mark Harrison Band
Taking elements of roots music, including folk, blues, and gospel, to create something new.
17:00 – Speed For Lovers
Electronica, disco, and rave influences.
18:30 – HENGE
Concept band playing electronic crossover rock.
20:00 – We Are Not Devo
The UK's only DEVO tribute band.

Sunday 25 July Lineup
14:00 – Dust Radio
Rootsy, blues-driven duo.
15:30 – Ashley Sherlock Band
A modern outlook on the sounds of the deep south.
17:00 – Torn Sail
Psychedelic alt-folk band.
18:30 – The Tombstone Buzzards
Three esteemed rockers intent on preaching direct from the gospel of rock n roll.
20:00 – Blast Lane
'Blues Rock as it should be'.
Address
The Dorothy Pax
Arch 17, Wharf Street
Victoria Quays
Sheffield
South Yorkshire
S2 5SY
Opening Times
From: 23/07/2021 To: 25/07/2021
Photos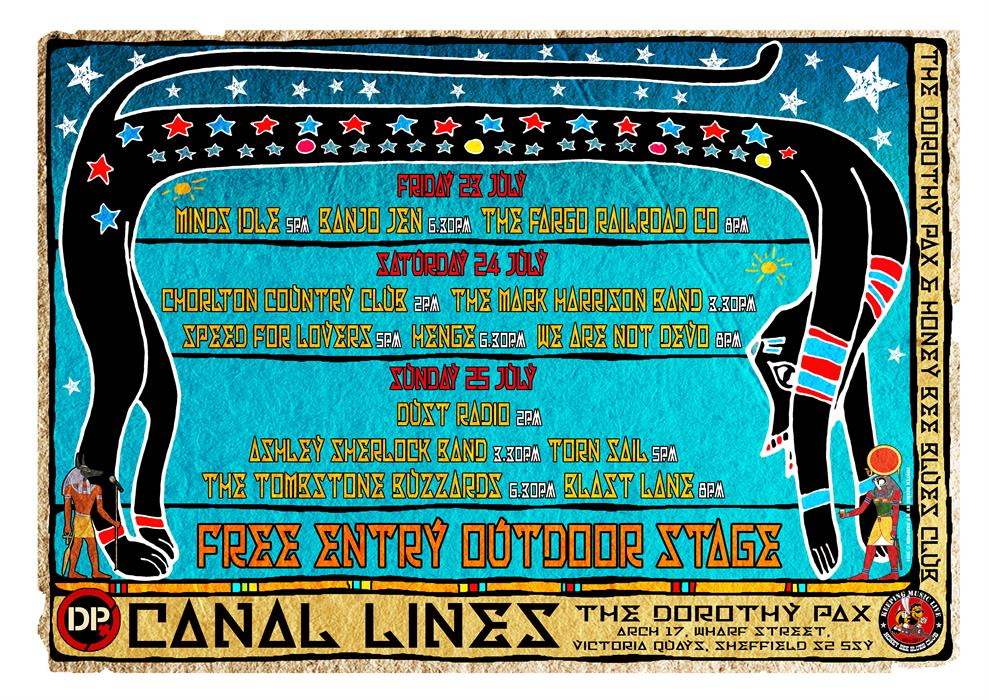 Pricing
Free