Skip to main content
Library Theatre
In the heart of Sheffield theatreland, the Library Theatre is an intimate, traditional 260 seat art deco venue with a licensed coffee bar.

The Library Theatre was originally designed as a lecture hall when the Central Library was built in 1934, with permission to host private performances for non paying audiences. The first drama performance came in November 1934 as the Sheffield Playgoers Society presented "See Naples and Die". The application of the Income Tax Acts meant that performances for which an admission fee was charged could no longer be held, meaning that during the hall's early years drama productions were largely limited to student productions before invited audiences.

During the war it was used as an air raid shelter and for the showing of Ministry of Information films. It was not until the Income Tax position changed in 1947 that the hall was provided with dressing rooms and improved stage lighting after which amateur productions were offered on a regular basis in the renamed Library Theatre.

1950 saw the installation of dual-arc projectors and the commencement of City Libraries' Film Weeks showcasing foreign films and films based on classical books. 1953 saw the Sheffield Repertory Company take up temporary residence in the Library Theatre as the Playhouse was being reconstructed, and also saw the Library Theatre used as the venue for the first ever television broadcast from Sheffield – a programme entitled "Public Enquiry".

In 1961 significant changes were made to the Theatre. The electrical equipment was improved, the stage was made larger, a proscenium arch was introduced, the auditorium was more steeply raked and a foyer was introduced. This made the venue more suitable for theatre use but saw the capacity drop from 400 to 264. The theatre was reopened in December 1961 by the Sheffield and District Amateur Theatrical Association's production of "The Sleeping Prince" by Terence Rattigan.

Although there has been a common belief that the Library Theatre is the home of amateur theatre in the city it has, in fact, hosted many other activities. These include film, dance, folk music, popular music, classical music, rock bands, circus, magic shows, literature events, stand-up comedy, children's shows, pantomime, variety shows, burlesque, lectures, demonstrations and meetings.
Contact Information
Phone: 0114 273 4727
Address
Library Theatre
Surrey Street
Sheffield
South Yorkshire
S1 1XZ
Photos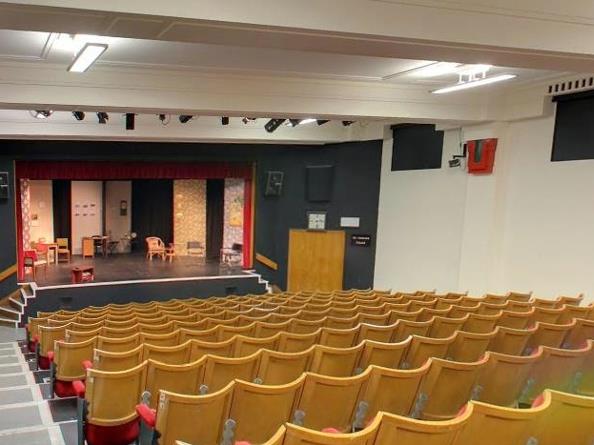 Useful Information:
Public toilets
Smoking not allowed
On-site light refreshments