Skip to main content
Sheffield General Cemetery
The General Cemetery opened in 1836 'at some distance in the countryside' in a 'remote and undisturbed' location. It became established as the principal burial ground in Victorian Sheffield containing the graves of 87,000 people.

The site today is a Grade II* listed park which is the highest listed in Sheffield, and one of only four in South Yorkshire. It is a Conservation Area, Local Nature Reserve and Area of Natural History Interest.

One of the earliest commercial cemeteries in Britain, it contains the largest collection of listed buildings and monuments in Sheffield, ten in total including Grade II listed catacombs, Anglican Chapel and monuments with the Gatehouse, Non-conformist Chapel and the Egyptian Gateway, each listed at Grade II*.

There is the largest single grave plot in the country, holding the bodies of 96 paupers.

It is also home to many important figures in Sheffield history such as Mark Firth, the steel manufacturer, and Samuel Holberry, the Chartist.

The cemetery was closed for burial in 1978, when half the cemetery was demolished to make way for a green space.

The Sheffield General Cemetery Trust carries out education tours and workshops; conservation work to maintain and enhance the monuments, the landscape and the paths; and historical research of the cemetery and its occupants. The aim is to encourage everyone to enjoy this historical site by walking its paths, learning its history or simply as a quiet place to sit and contemplate.
Address
Sheffield General Cemetery
Cemetery Avenue
Sheffield
South Yorkshire
S11 8NT
Photos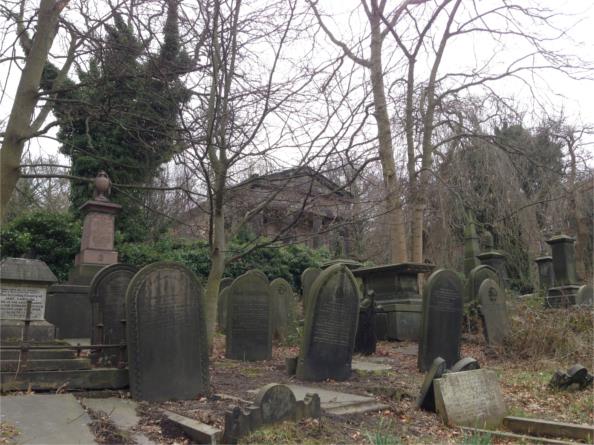 Directions
Arriving by Rail
Sheffield General Cemetery is two miles from Sheffield station

Arriving by Bus
Catch an 80 bus (80 through to 88) from the town centre up Ecclesall Road.
Get off at Collegiate Crescent and turn left down Cemetery Avenue (by Café Rouge).
The cemetery entrance is at the bottom of the road.

OR

Catch a 22 from outside the Cathedral.
Get off as the bus turns into Washington Road and walk up the hill.
The cemetery is on your right.

Accessible by Public Transport: Sheffield station is 2 miles away.
Related
Sheffield General Cemetery Trust
Halloween Haunted Screenings: Death Becomes Her
Halloween Haunted Screenings: Woman In Black 2 - Angel of Death
Halloween at Sheffield General Cemetery!
Halloween Haunted Screenings: The Nun
Useful Information:
Accepts groups
Dogs Accepted
Children welcome
Grounds for outdoor activities
Guided tours for groups