Skip to main content
Aqua Park
Try out the "Total Wipeout" style Aqua Park (inflatable outdoor water assault course) in Rother Valley Country Park!. Complete with huge inflatable slides, trampoline, inflatable climbing wall, runways and of course the blast bag! This is the ultimate outdoor water experience!
Corporate & Team building Events / Group Bookings / Stag and Hen / Schools
The Aqua Park can be booked for team building events or groups. Smaller groups (less than 15) and those not requiring catering, can be booked online. Please Aqua Park for more information on booking for larger groups. See Their bar and catering page for more information about catering for group bookings. The Aqua Park can also be combined with learn to kneeboard/ wakeboard team events to create a full day experience for your group.
Children's Parties (8 yrs+)
They also offer Aqua Park bookings with children's party food following the session (8+ years). Aqua Park parties are 50 minute sessions on the Aqua Park (normal Aqua Park session, not exclusive – see prices page) followed by food. Please note that the min safety ratio of one adult to three children for 8 – under 11 year olds still applies to parties Please see the F.A.Q's for more information. The party food menu is £4.50 per child ,which includes a drink of squash plus a choice of one of the following from our cafe menu:
Burger and Chips
Sausage and Chips
Chicken Goujons and Chips
Pizza and Chips
Food is served after the session, outside on our cafe tables. If your Aqua Park session is booked for 11:00 a.m, they would serve food to your group at approx 12:15 to allow everyone chance to get changed. Please contact them to book.
Bringing a Birthday Cake. You are welcome to bring your own birthday cake but please be aware that you will need to look after it before it is served. We do not have party hosts to serve cake.
PLEASE NOTE: There are safety requirements on the Aqua Park, including a minimum swimming distance standard of 50 metres. Please take a few minutes to read our FAQ's to ensure that you understand how the sessions will run and what will be required of the children. Children's parties are not in a private party area or with a party host, they simply allow you to pre-book food to make it a better party experience.
Address
Aqua Park
Rother Valley Country Park
Mansfield Road
Sheffield
South Yorkshire
S26 5PQ
Opening Times
Please visit the Aqua Park for opening times.
Photos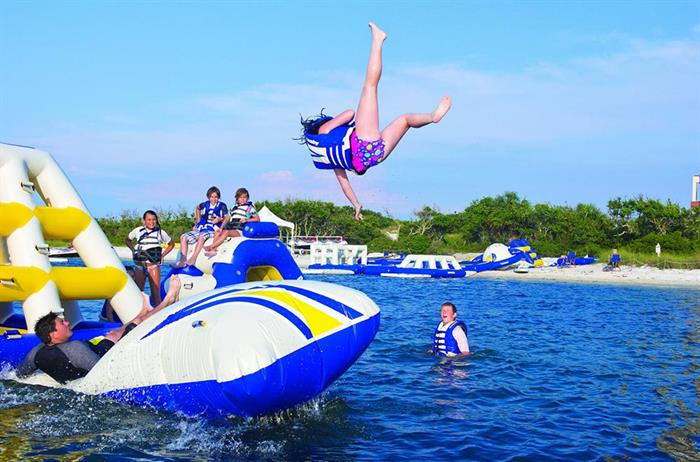 Pricing
£15 - £20