A central point for ambling through the city, the Winter Garden's northern exit takes you directly to Sheffield's theatreland in Tudor Square (the largest theatre complex outside of London), while leave to the south, and you'll walk straight into the splendour of the Peace Gardens.
Originally christened "the Peace Gardens" after the signing of the pre-second world war Munich Agreement, this urban garden square was first designed after the demolition of St Paul's Church in 1938. In 1985, the name became official and much later, in 2000, this inner city sanctuary was overhauled as part of Sheffield's Heart of the City redevelopment project. War memorials dedicated to Sheffielders who fought in worldwide battles decorate the square, while the Goodwin Fountain and Holberry cascades spout jets of water, representing Sheffield's five rivers and the flowing molten steel on which the city's fortunes were founded. Now a popular place for locals and visitors to congregate especially on sunnier days, the Peace Gardens are a welcome green space right in the heart of Sheffield. You can even take a run through the fountains if it gets really hot.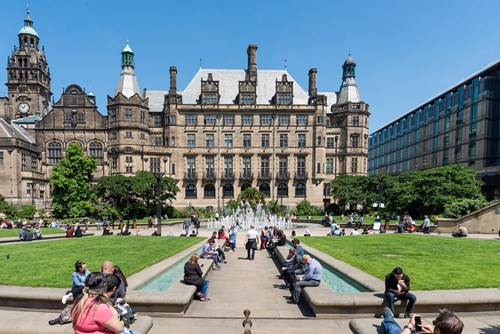 Location:
Winter Garden, Surrey Street, S1 2LH.
Peace Gardens, Pinstone Street, S1 2HH.